Member engagement is your ultimate revenue accelerator.
Reach and motivate through the industry's most seamless club management mobile app for members to conveniently book, buy, administer and engage with your club from wherever they may be.
Deliver highly personalized, immersive and rewarding member engagement.
At ABC, we understand that convenience and on-demand access is part of your member's fitness lifestyle and your club's business model.
With our new and powerful branded gym mobile app platform, we help you to keep your club top of mind, deepen those relationships, boost performance and grow revenue from one place.
Curate an inclusive in-club and digital fitness experience through your club's very own native mobile app for both iOS & Android devices.
Enable discovering, scheduling, purchasing and checking in "on-the-go" for members with a unified mobile app
Present and activate non-dues through curated streaming, video workout libraries, virtual PT calls and more with precision to boost revenue and convert new members
Motivate members virtually with personalized notifications, challenges based on custom behavioral triggers.
Deliver a seamless member experience that is native to our club management suite and payment solutions.
Get 2X more engagement compared to a typical gym mobile app and increase lifetime value by 28%
Create a Total Fitness Experience that is as unique as your club
With ABC+, your member app will be native and inclusive to our comprehensive and modular club management software so that you can manage memberships, automate billing, booking and scheduling, coaching, nutritional guidance, progress tracking, communication tools and much more on the go.
Own a mobile app native to the ABC Suite
Allow members to buy, book and pay for club services and manage their account through a mobile app that integrates seamlessly with ABC's club's management suite.
Get your very own branded member app
Administer and engage with members on their smartphones and tablets by offering on-demand scheduling, custom workouts, premium digital coaching, messaging and much more to expand club revenue opportunities.
Deliver personalized and curated on-demand fitness content
Deliver personalized video or livestream classes, digital coaching, challenges and rewards through the mobile app itself to keep members motivated.
Enable members access from anywhere
Expand your club's personal training and workout programs with a digital offerings delivered on demand and through video calls anytime, anywhere for your members.
Be where your members are
Keep your club front and center to your member's fitness lifestyle by expanding your presence and value, like daily habits reminders, personalized messages and more.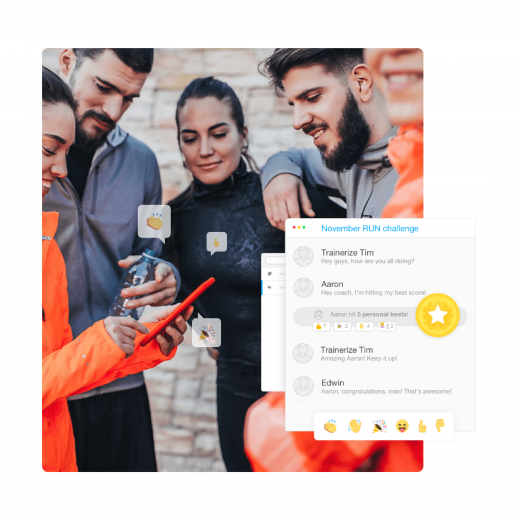 Give your trainers new superpowers
Spark motivation, provide timely feedback or just informally chat with your members in the mobile app to build stronger and more lasting community.
Success stories from our clients
Life Time changed how members can engage and train with certified fitness professionals and made the club's premium services affordable and accessible to more members than ever.
Experience ABC+. Schedule a demo.
Our core is your strength.TM
Newsletter
Join our newsletter to learn about features and releases.